Welcome To My Curry Shed


My name is Lee Jones and I have created this website with one purpose in mind, to share with you everything I have learnt about Cooking Curry and the many styles of cooking it, using a no nonsense approach that anybody can replicate at home.
QUESTION. I absolutely don't know anything about cooking a curry properly, can you help ?
ANSWER. This site has been specifically built for you, the one thing you will soon discover is just how in depth I will go into helping you achieve your goals. I never just describe, show or advice you to use or buy anything without first fully explaining why & how to use it, so for those that may already be in the know, I will make no apologies if at times it look's like I'm teaching you to suck eggs, because I can remember back when all those acronyms or techniques meant nothing to me as they were never fully explained or demonstrated to be of benefit, it was just simply stated and then assumed we already know !!!!


By following my tried and tested methods along with innovative tips and techniques, using proven Restaurant Recipes, you too can achieve the same level of satisfaction of cooking any of your favourite curries at home JUST LIKE A PRO, and best of all to the same high standards and quality, and even better in most cases than can be obtained in most Asian Takeaways or Restaurants situated anywhere in the world.
I have spent over 2 years building this site before allowing a single person access to see what I have available here, even some of my closest friends knew nothing of this site the plans I had initiated and all the activity going on behind the scenes.


This is a ONE STOP place with every aspect of BIR (British Indian Restaurant) Authentic Indian, Chinese and Thai style of cooking curry covered.
Now you too can reproduce everything yourself and all from within the comfort of your home kitchen, outside in your garden, a garage space or as in my case even a Shed, hence the name Curry Shed.
| | |
| --- | --- |
| BEFORE | AFTER |
| | |
Of course you do not have to do all your Curry Cooking in a Garden Shed, that is just my personal preference, But as an added bonus, I will also show you how I also cook outside, what equipment is required and fully demonstrate a purpose built piece of kit aptly named as the OUTDOOR REPLICATION STATION
THE OUTDOOR REPLICATION STATION

 
 
With my help and advice, you will be able to create every dish you see on any Indian Restaurant and takeaway menu in your own home kitchen, without using any special equipment, no tandoori ovens or professional equipment is required.
Within this site I will show you just what is possible and how you can achieve anything with a little bit of enterprise, imagination and a whole lot bit of practice.
It's MUCH MORE THAN THAT !
All non Members will have limited access to areas of the site,  but as this is primarily a Membership site, for a very small yearly fee members receive continuous access to all areas of the CurryShed Website.
Joining our Membership will open up the rest of the websites content in full. 
By that I mean, you will notice that many of the pages of this site have restricted viewing while others such as this one and other informational pages can be viewed without joining, but the bulk core content can only be accessed, downloaded or viewed by the members who are signed in and have paid their yearly membership subscription. 
If this sounds just up your street, then why not click today and see for yourself, alternatively to find out even more information of what will be available to you as a member, click on the ABOUT link above, or the logo below.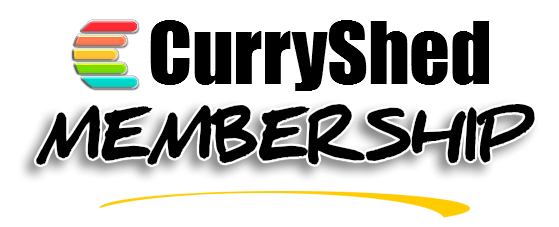 CurryShed
Members Online Store
BUT WAIT

as a member you will also have full access to the CurryShed online store, where you can purchase all the herbs and spices, pastes and specialist ingredients you desire to replicate any curry.

we have Spice Kits, Burners, Pots & Pans, Specialist and Basic Cookware, Utensils, Accessories, Kitchen Gadgets and  lots of other Equipment, Chef Clothing, T-Shirts

The list is endless and will grow daily as we add more and more product items to the store, much of which is exclusively supplied to us or manufactured by CurryShed so cannot be found anywhere else.
THERE IS EVEN MORE – your membership subscription will last a whole year and will provide ongoing and growing content such as written articles and videos on topics we know cannot be found anywhere else  – how do we know this, you may ask ?, because I search the internet daily to see what is currently available and continually will try and bring you quality content to maximise our websites exclusivity for all it's members.

THE WebTV SHOW
This is something I believe has never been done before, and as each episode is completed, only members will be invited to view the latest CurryShed Show, and as a member, you too will be given the opportunity of appearing on the show as a guest, of course only if you want to that is !!!
This will be a Pre-Recorded show released at regular intervals for members only
A LIVE Version is coming soon

Both these shows will bring you in-depth reports & reviews of special events from all over the UK, detailed product reviews from our store and leading manufacturers, we will fully test many different products so you don't have to, have interviews with manufacturers, Recipe taste tests and other fun activities as well as all the tips and techniques to help you along your journey.
CLIMBING MOUNTAINS  – Sometimes it can feel like you are climbing a mountain, and just a simple method, tip or technique that you are not aware of can be a major stumbling block, CurryShed has this information covered, and we cannot express enough just how much you will learn from this websites members area
Happy Currying
Lee Jones